[et_pb_section bb_built="1″ admin_label="section"][et_pb_row admin_label="row"][et_pb_column type="4_4″][et_pb_text admin_label="Text"]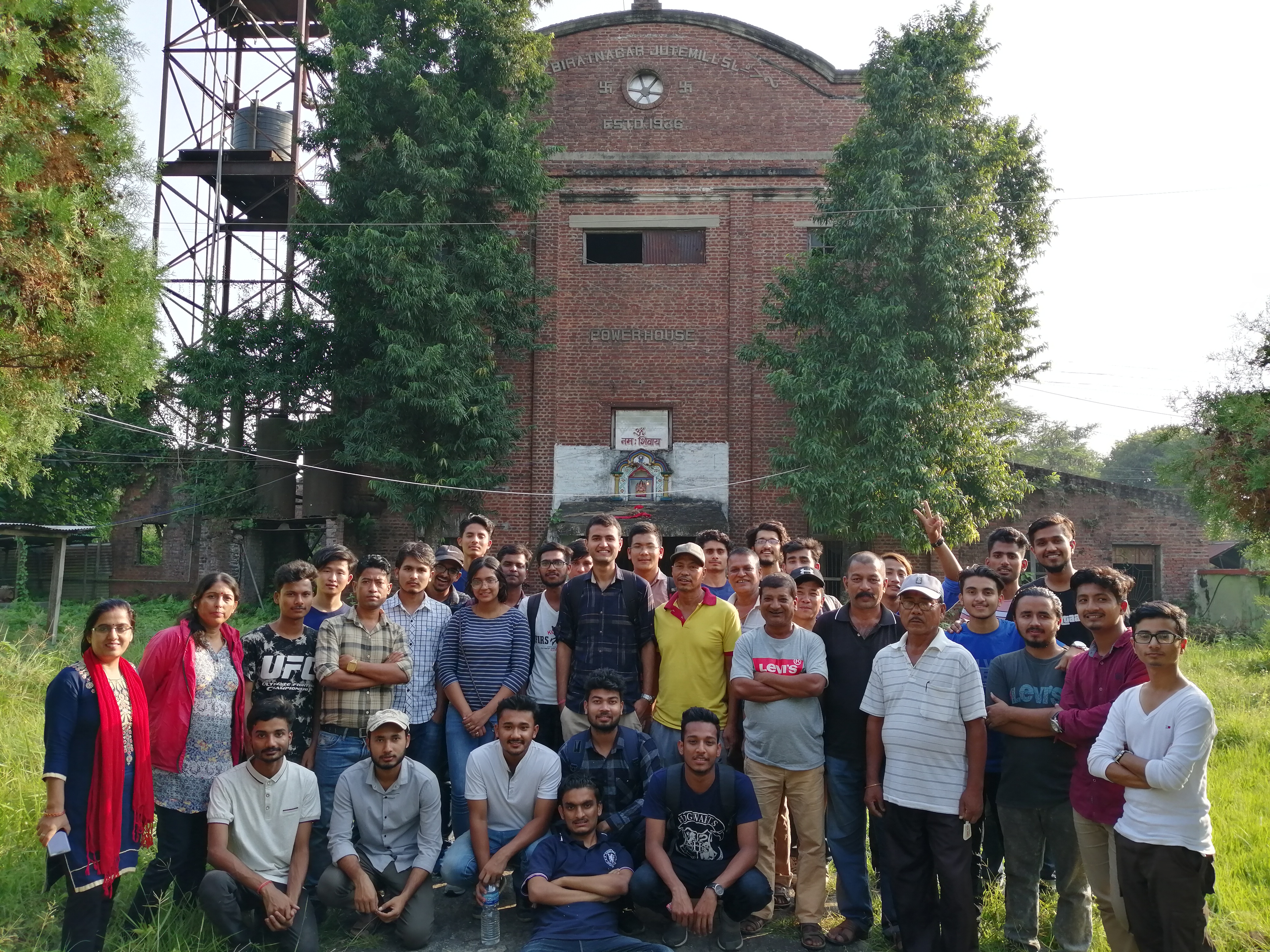 Association of Mechanical Engineering Students (AMES) organized one day industrial visit in between festival vacation on 25th October, focusing student specially residing in Eastern Nepal. With motive of mutual collaboration, AMES included two student from Tribhuvan University, IOE, Thapathali Campus. Such involvement will definitely improve and motivate student to understand and exchange their expertise. The program was successfully coordinated by Mr. Niroj Koirala, Executive Member of AMES. During their visit they specially visited three different industries in Duhabi – Biratnagar industrial corridor namely Annapurna Cement, Aarti Strips (P) Ltd. and Biratnagar Jute Mills. Mr. Nagendra Kumar, Assistant General Manager (AGM), Mechanical / Project Department, helped student to learn about different process, plant and equipment in Aarati Strips. He encouraged students to work effectively for technological development in Nepal. AMES President Mr. Rishabh Thapa thanked Mr. Prayush Rauth, MD Annapurna Cement; Mr. Basanta Ban, Chairperson, Biratnagar Jute Mills and administrative officer, Aarti Strips(P) Ltd. for cooperation.
We, Student of Mechanical Engineering have successfully completed one day educational tour. From our side we tried our best to manage program effectively. We have estimated 40 participants and management was made accordingly. Thank you for your participation.
[/et_pb_text][/et_pb_column][/et_pb_row][et_pb_row admin_label="Row"][et_pb_column type="1_4″][et_pb_image admin_label="Image" _builder_version="3.0.51″ src="http://ames.ku.edu.np/wp-content/uploads/2018/11/images.png" show_in_lightbox="off" url_new_window="off" use_overlay="off" sticky="off" align="left" always_center_on_mobile="on" border_style="solid" force_fullwidth="off" /][/et_pb_column][et_pb_column type="1_4″][et_pb_image admin_label="Image" _builder_version="3.0.51″ src="http://ames.ku.edu.np/wp-content/uploads/2018/11/aarti-logo.png" show_in_lightbox="off" url_new_window="off" use_overlay="off" sticky="off" align="left" always_center_on_mobile="on" border_style="solid" force_fullwidth="off" /][/et_pb_column][et_pb_column type="1_4″][et_pb_image admin_label="Image" _builder_version="3.0.51″ src="http://ames.ku.edu.np/wp-content/uploads/2018/11/title_aarti.png" show_in_lightbox="off" url_new_window="off" use_overlay="off" sticky="off" align="left" always_center_on_mobile="on" border_style="solid" force_fullwidth="off" /][/et_pb_column][et_pb_column type="1_4″][et_pb_image admin_label="Image" _builder_version="3.0.51″ src="http://ames.ku.edu.np/wp-content/uploads/2018/11/biratnagar-jute-mill.jpg" show_in_lightbox="off" url_new_window="off" use_overlay="off" sticky="off" align="left" always_center_on_mobile="on" border_style="solid" force_fullwidth="off" /][/et_pb_column][/et_pb_row][/et_pb_section]