Aviyantaa'18

Aviyantaa'18 was the fifth annual event of  AMES. The main highlights of Aviyantaa'18 were project exhibition and competition of undergraduate students, release of the 5th edition of departmental yearbook – Aviyantaa'18, automobile display, talk programs and shows, gaming events and food stalls, photography exhibition & competition, quiz competition, face painting, slow cycle race, etc.
                Venue:   Kathmandu University Central Campus, Dhulikhel, Kavre
                Time:     9:00 A.M. – 4 P.M.
                Date:     28rd & 29th November, 2018
Official Trailer of Aviyantaa'18.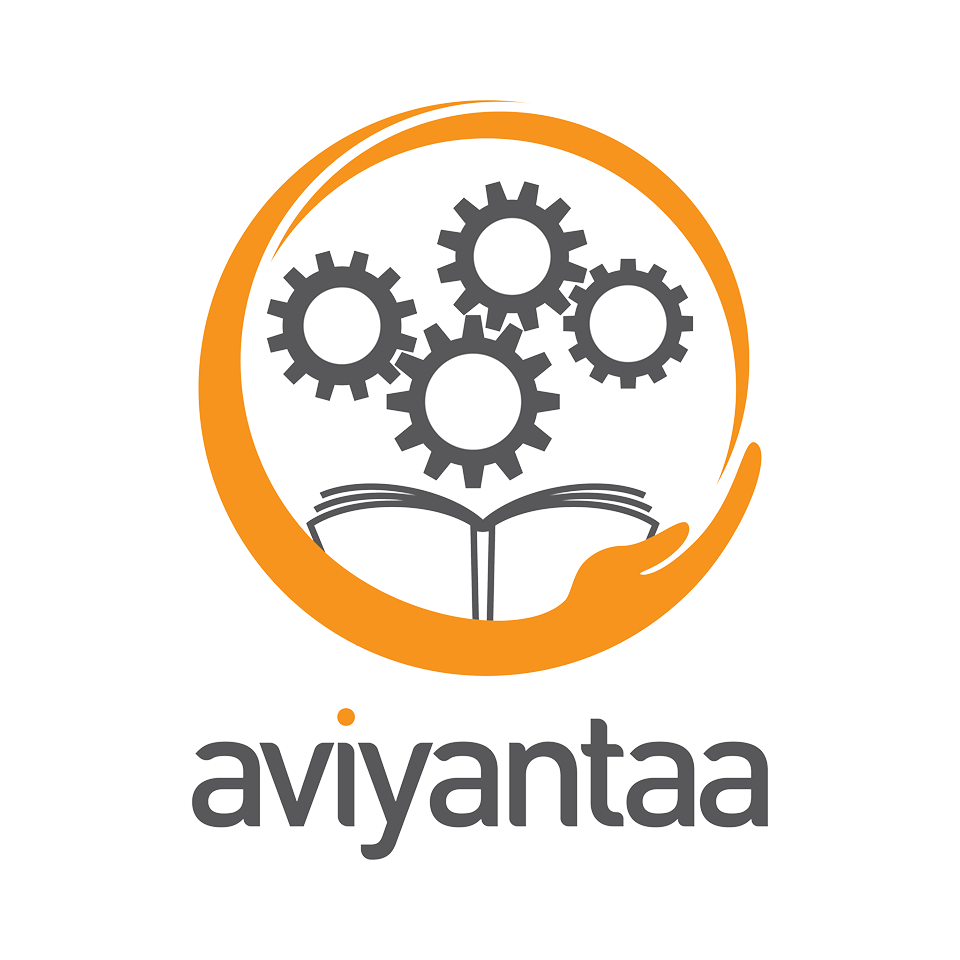 Project Exhibition and Competition
Students of different years showcase their yearly projects or project banners along with their description and working principles with the total number of projects ranging from 80-100. The project exhibition is the main attraction as well as the heart of the main event and the program will be formally started with senior faculty members reviewing the projects. The projects included in the exhibition are academic and non-academic projects of Department of Mechanical Engineering, Kathmandu University.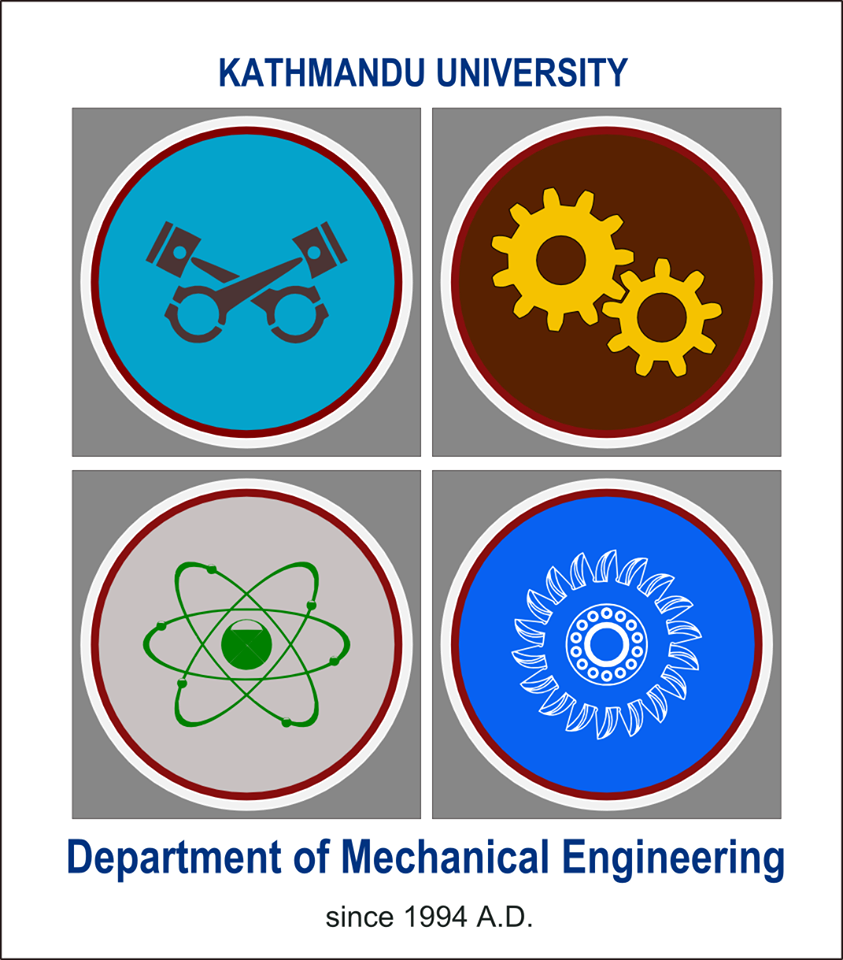 Best Hydro Project:
Design and Development of Ducted Turbine for Low Head Applications [ Third Year ]
Best Energy Technology Project:
Design and Fabrication of Batch Type Torrefaction [Third Year ]
Best Automobile Project:
Measurement of Vapour Pressure & Enthalpy of Vapourization of Gasoline & Kerosene blend and their effects on Mixer Preparation in an SI Engine [ Third Year ]
Best Design and Manufacturing Project:
Design and Fabrication of Bionic Arm [ Second Design ]
Aviyantaa'18 Winner Project:
Design and Fabrication of Sand Seiver [ First Year Project | Design & Manufacturing Sub-Division ]
Aviyantaa'18 Magazine Launch
The fifth volume of the magazine "Aviyantaa" was launched.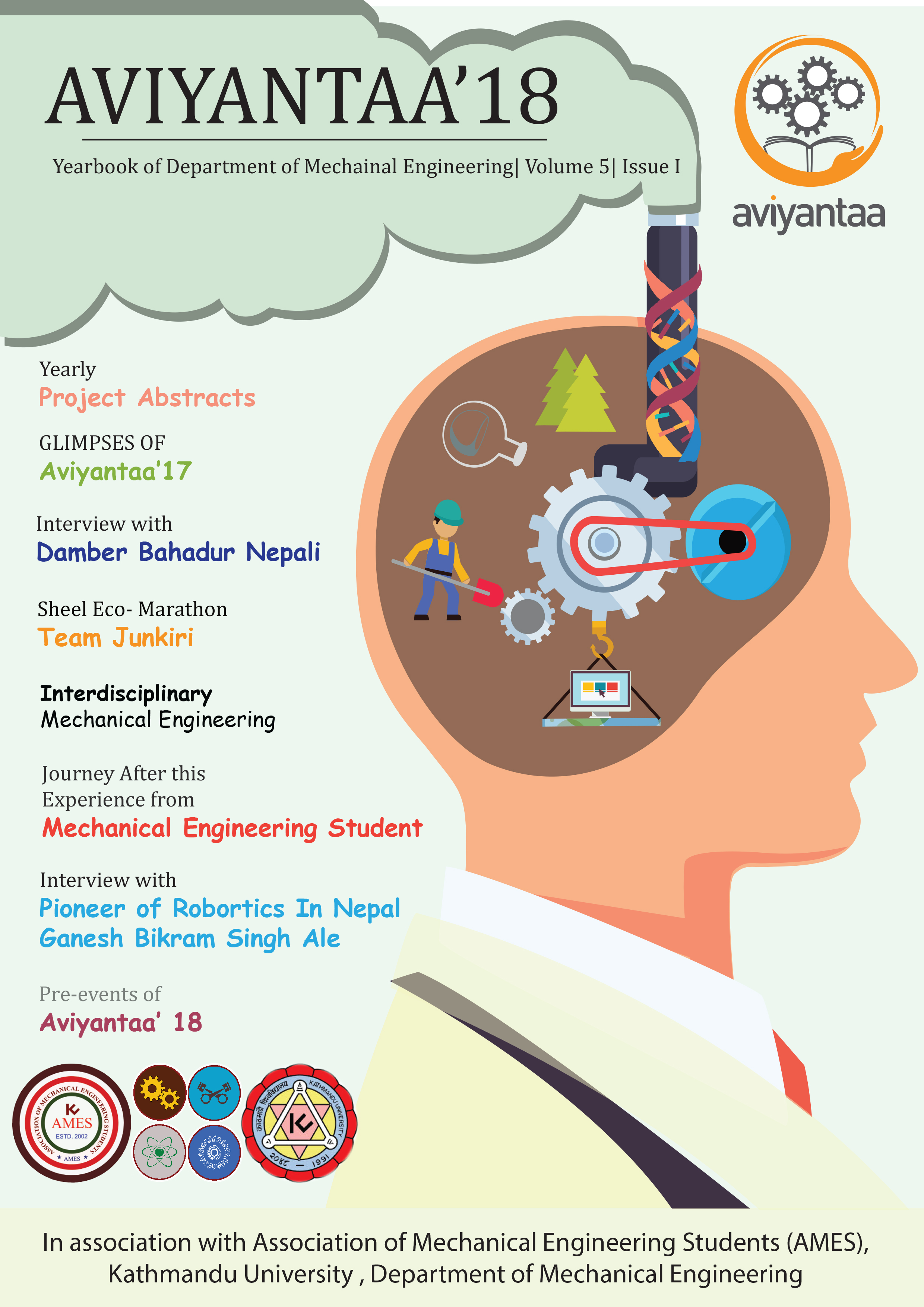 Photography Competition
One of the biggest highlight of the event last year, the photography competition looks to involve the members of the University across all the departments as well as people who closely follow the department. The photographs provided by the participants are put up for display and voting by the visitors and judged by a committee of photography experts to declare the top three photographs with prizes and acknowledgements. The photography competition of Aviyantaa'18 is organized in association with Canon Imaging Academy, Nepal.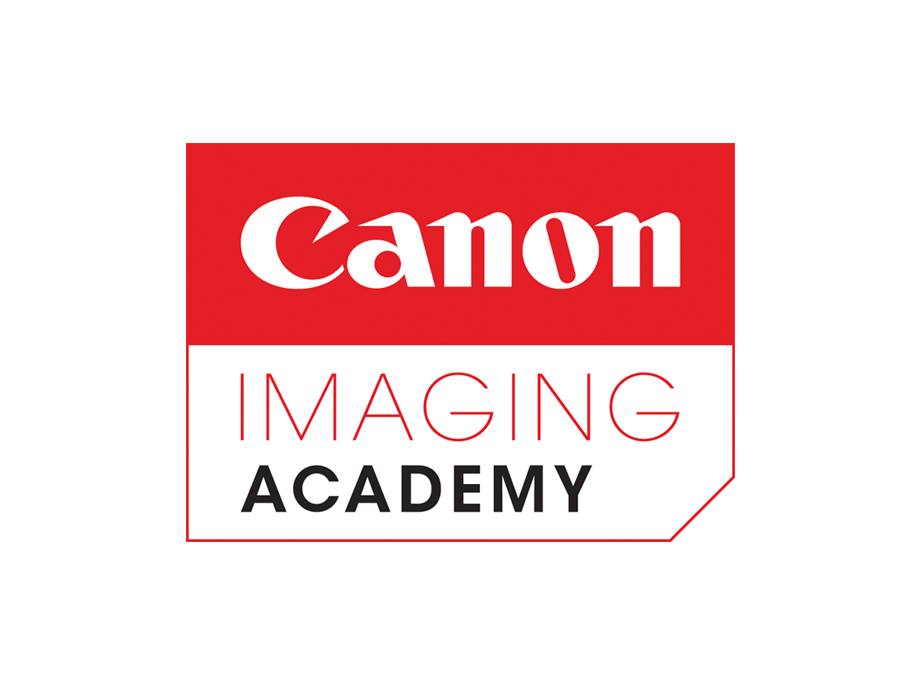 Junkiri Display
Junkiri is the fuel efficient vehicle fabricated by Association of Mechanical Engineering Students (AMES) that will participate in Shell Eco-Marathon. It is about to be the first team to participate in Shell Eco-Marathon Asia from Nepal. Junkiri will be displayed in Aviyantaa'18 where guests can learn and test ride the vehicle.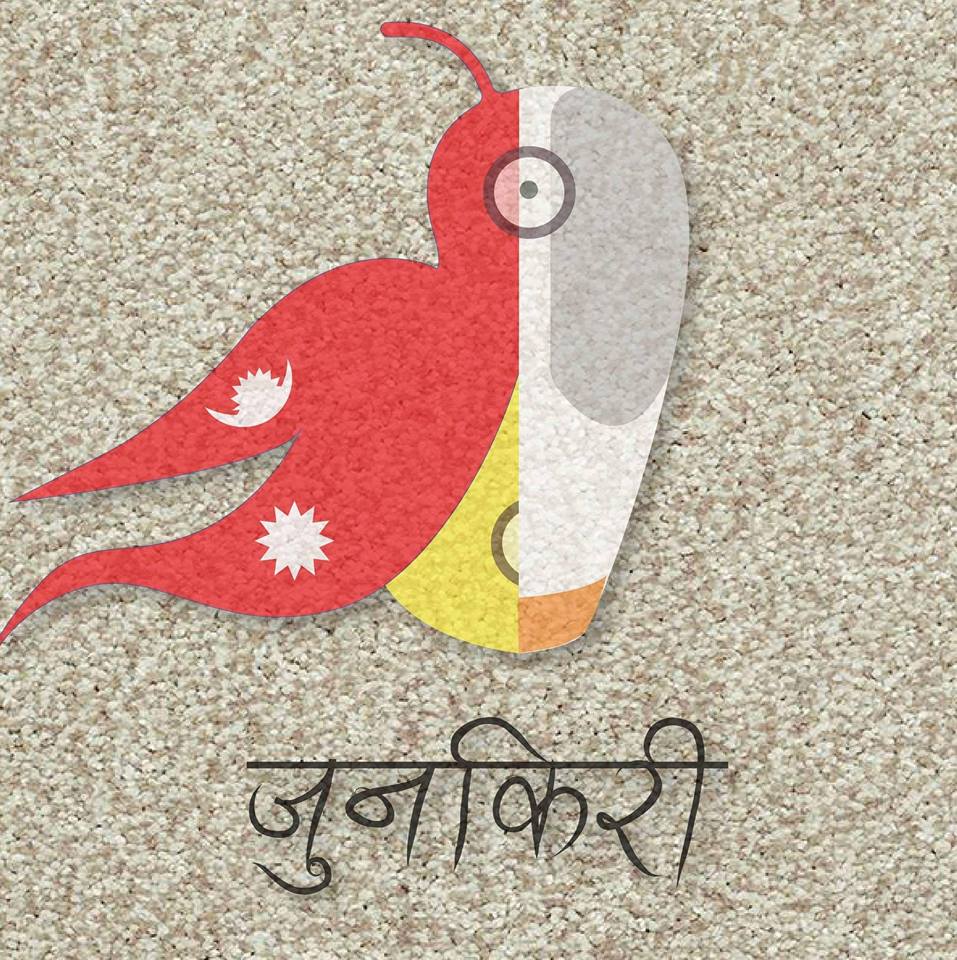 Junk Art Display
The Junk Art made by the students of Mechanical Engineering and School of Arts in Samayojan'18 will be displayed.
Talk Program on "Engineering and Entrepreneurship"
Expert on different fields related/non-related to mechanical engineering spoke about their research and new technologies in their field. The guest speakers of the talk program held on 29 November were Mr. Bheshraj Neupane, Founding President of Damak Public Library; Mr. Ganesh Bikram Singh Ale Magar, Electrical Engineer and First Nepali to make Bomb Disposal Robot for Nepal Army; Mr. Kushal Shrestha, Executive Director of CFMOTO Nepal; Mr. Sukadev Karki, Brand Ambasador of CFMOTO Nepal. This event not only widened the horizon of student but also helped them to pursue career in different fields.
University Tour
Visitors shall be greeted with a University tour which shall reflect upon the rich engineering history as well as the prowess of the KU central Campus with the major attraction being the Department itself, the Turbine Testing Lab and the Technical Training Centre and Mechanical Workshop. Such a tour was given to students from +2 colleges and undoubtedly many were inspired, seeing the sort of testing work and training in flesh.
Automobile Display
Last year's event saw a company showcasing its automobiles in the main event. CFMOTO a reputed company showcased their latest offering on the event along with a short test drive around the KU ring road with different types of competitions as pole race, slow race, etc. The Executive CEO, Mr. Kushal Shrestha and Brand Ambasador, Mr. Sukhadev Karki visited the venue themselves

Mechanical Quiz
Participant groups from the Department of Mechanical Engineering will compete with each other in a competition of general knowledge and I.Q with prizes awarded to the winning team.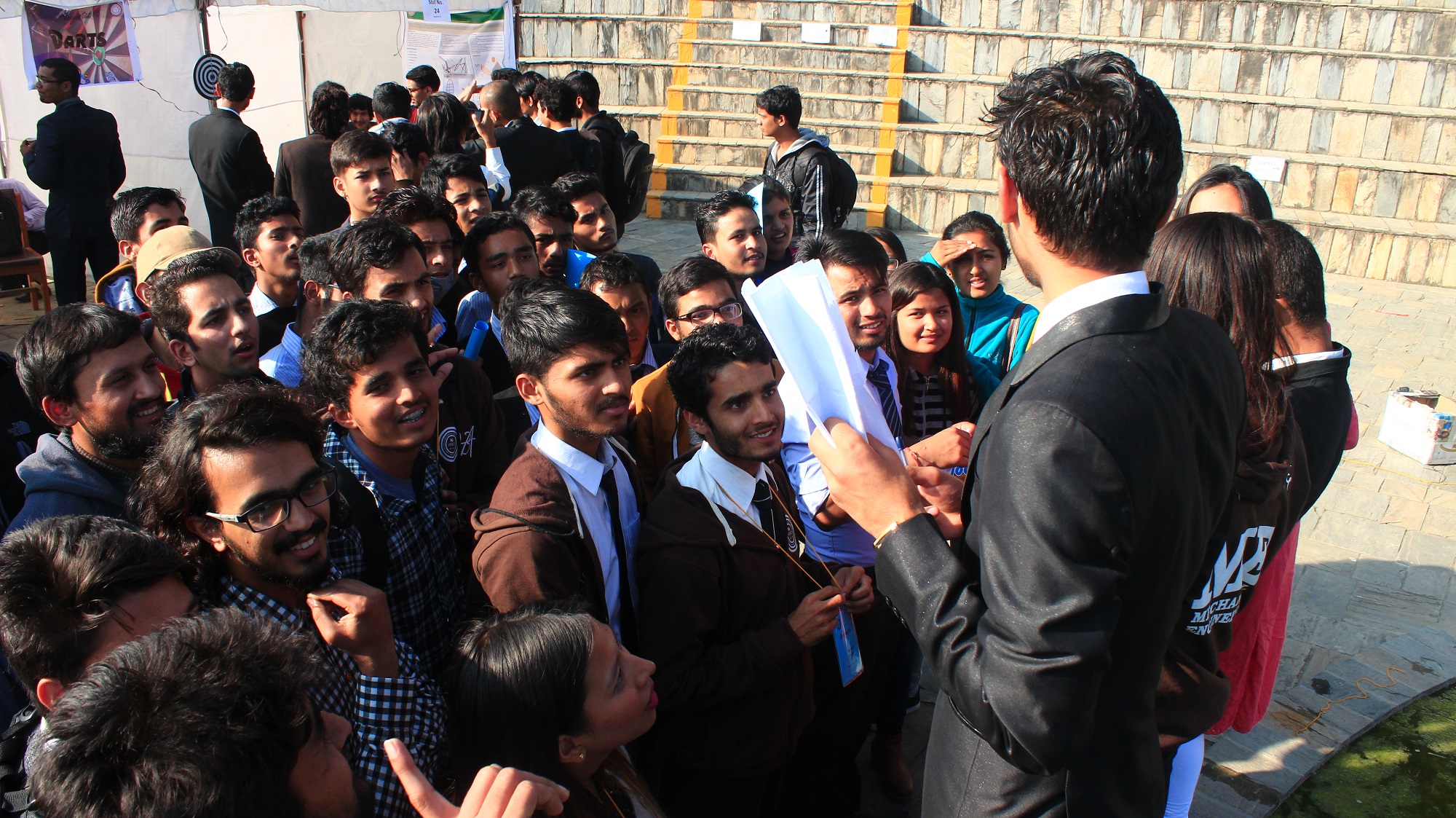 Robotics Display
The Kathmandu University Robotics Club, in accordance with the Mechanical Engineering Department showcased their projects along with promoting their main event Aavishkar 18.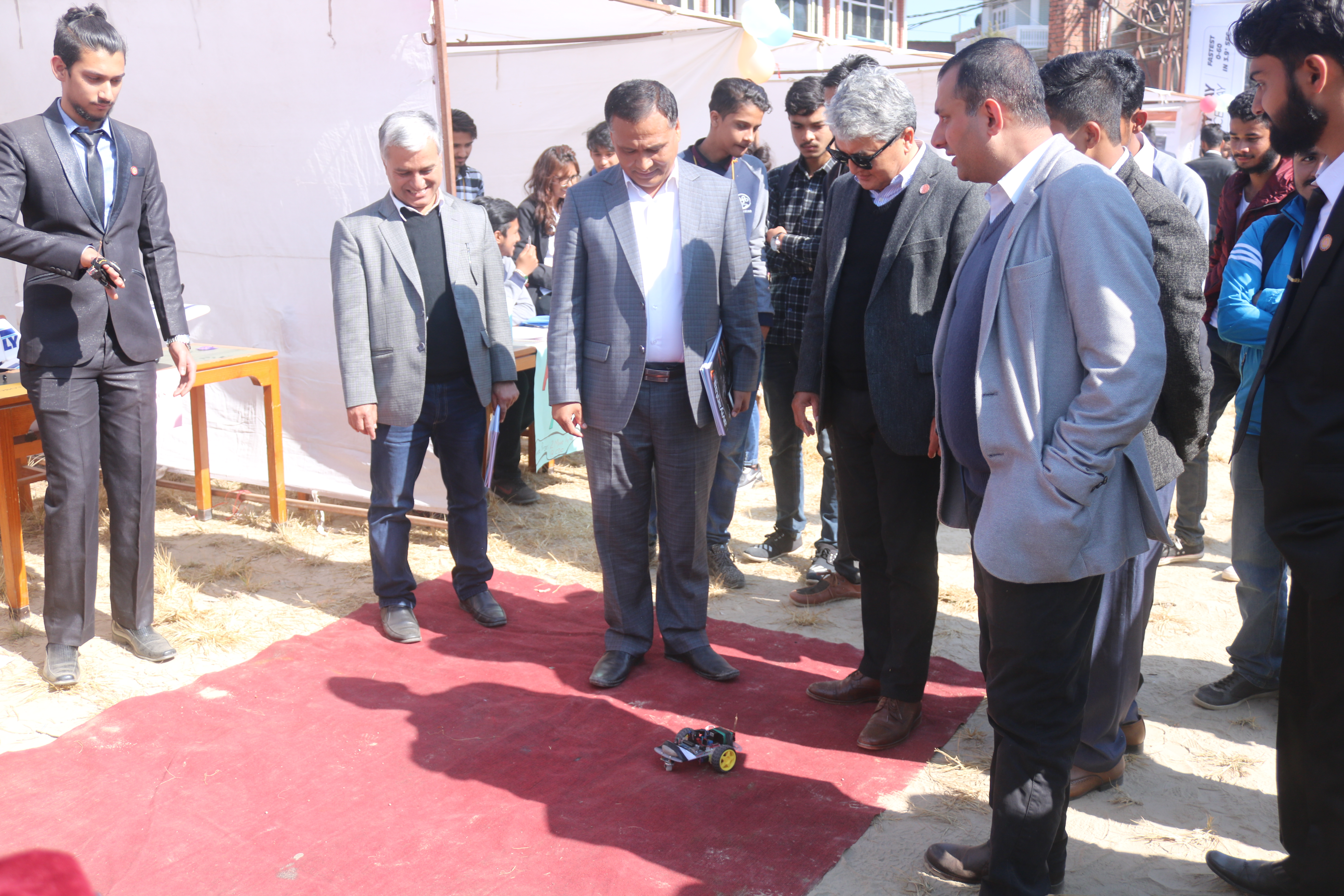 Flash Mob
It is act where large numbers of people act or perform together then disperse. This can be an efficient tool for promotion of event as well as sponsors.
Gaming Competition
Gaming Competition will include popular Multi player Video games like FIFA, Mini Militia, PUBG as well as indoor competitions like Darts, Carom and carnival games with suitable prizes for winners throughout the main event. Such events have been a constant in the past two iterations of the event itself.
Face Painting
The face painting event will see volunteers having a go at painting the faces of the visitors as per their demand. The face painting event was a huge hit in last year's event with a lot visitors waiting in queue to paint their faces.
Career Counselling
A stall will be setup for the higher secondary students to get there answer regarding pursuing career in mechanical engineering. Students can get better insight in mechanical engineering thus making them interested toward engineering as whole.
Paper Planes
We love to relive our childhood. In this event participant are to make paper planes of A4 size paper. The planes are to be flown and the distance is measured. The person whose plane goes farthest or has longest flight will receive a reward.
Slow Cycle Race
In addition to the repair and maintenance, a slow cycle race will also be organized where participants will try to cross the finish line as slow as they can without touching their feet on the ground. It is a highly anticipated event in this year's event.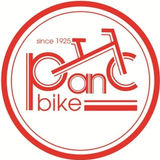 Acoustic Night
Following the ritual of any major event, the acoustic evening will mark the formal end of the main event. The event will consist of special performances by students across Departments as well as programs offered within the Kathmandu University. This event gives the students an opportunity to showcase their talents and it certainly will be an event accepted by the students and visitors with wide open arms.