Association of Mechanical Engineering Students (AMES) in association with Canon Imaging Academy successfully conducted "Pre-Aviyantaa'18 Event: One Day Photography Workshop" on 6th October, 2018 at TTL 'A' room from 10 am to 2 pm. Mr. Aishu Mathema, the coordinator of Canon Imaging School – Nepal was the chief trainer while other two were his assistants. 13 participants were present on that day and 11 of them were members AMES while one of them was from Kathmandu University School of Medical Science and one of them was from Pharmacy 4th year, Kathmandu University School of Science.
Mr. Aishu Mathema began the workshop session sharp at 10 am with his introduction and his involvement in the field of photography and graphic designs. Similarly, he gave insights about the involvement of Canon company in Nepal and how Canon is shaping up its market against its competitors. Mr. Aishu Mathema gave wonderful tips and techniques about photography and its possible significance in student's life. He linked most of his collection of photographs with lifestyle of Nepalese people and macro objects. He was quite passionate about macro-photography and lifestyle photography. He explained the principles and terminologies involved in photography which was easily comprehended by the participants. He introduced the photography enthusiasts with photography tips which were quite useful for all and talked about the common mistakes that general photographers do while framing the camera. He shared his view on important things that a good photograph needs to have such as a theme, focus point and simplification of the picture.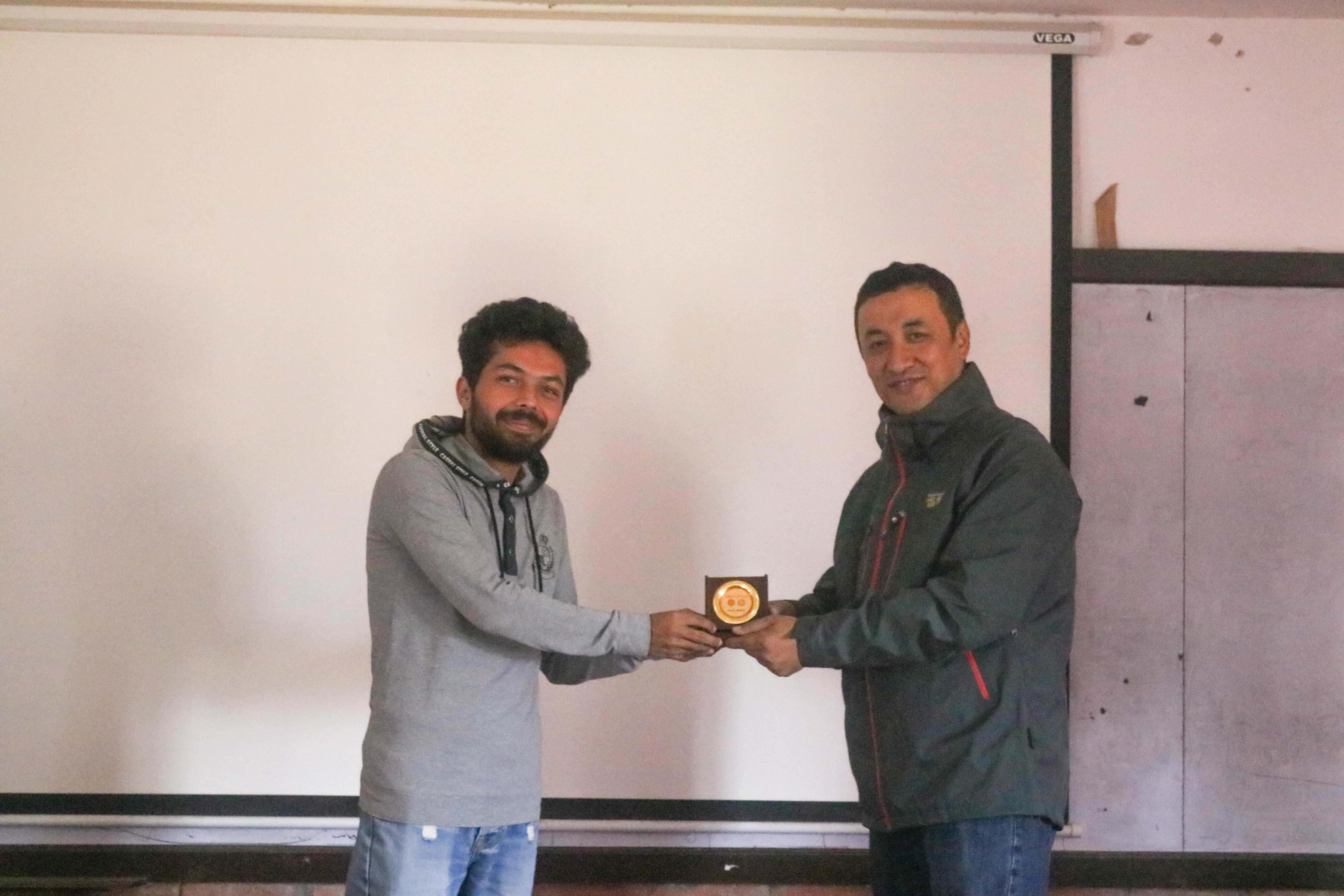 Mr. Aishu Mathema took the theory session for almost two hours and then it was followed by the lunch session at KU Canteen at 12 pm. After half an hour of lunch session, the workshop was again resumed where he talked about famous photographers and their way of photography. Once the theoretical session was over, the Question-Answer session was commenced where the queries about DSLR cameras and photography techniques were vigorously discussed. Practical session was supposed to be followed afterwards but since Mr. Aishu Mathema had his important meetings in Kathmandu, it couldn't be followed by Canon Imaging Academy Team but it was overtaken by photography enthusiasts amongst the participants like Mr. Maulik Man Maharjan, Mr. Prabidhi Adhikari and Mr. Bibek Gautam. The token of love was distributed by Mr. Prabidhi Adhikari, senior most member of AMES club to Mr. Aishu Mathema and his assistants.