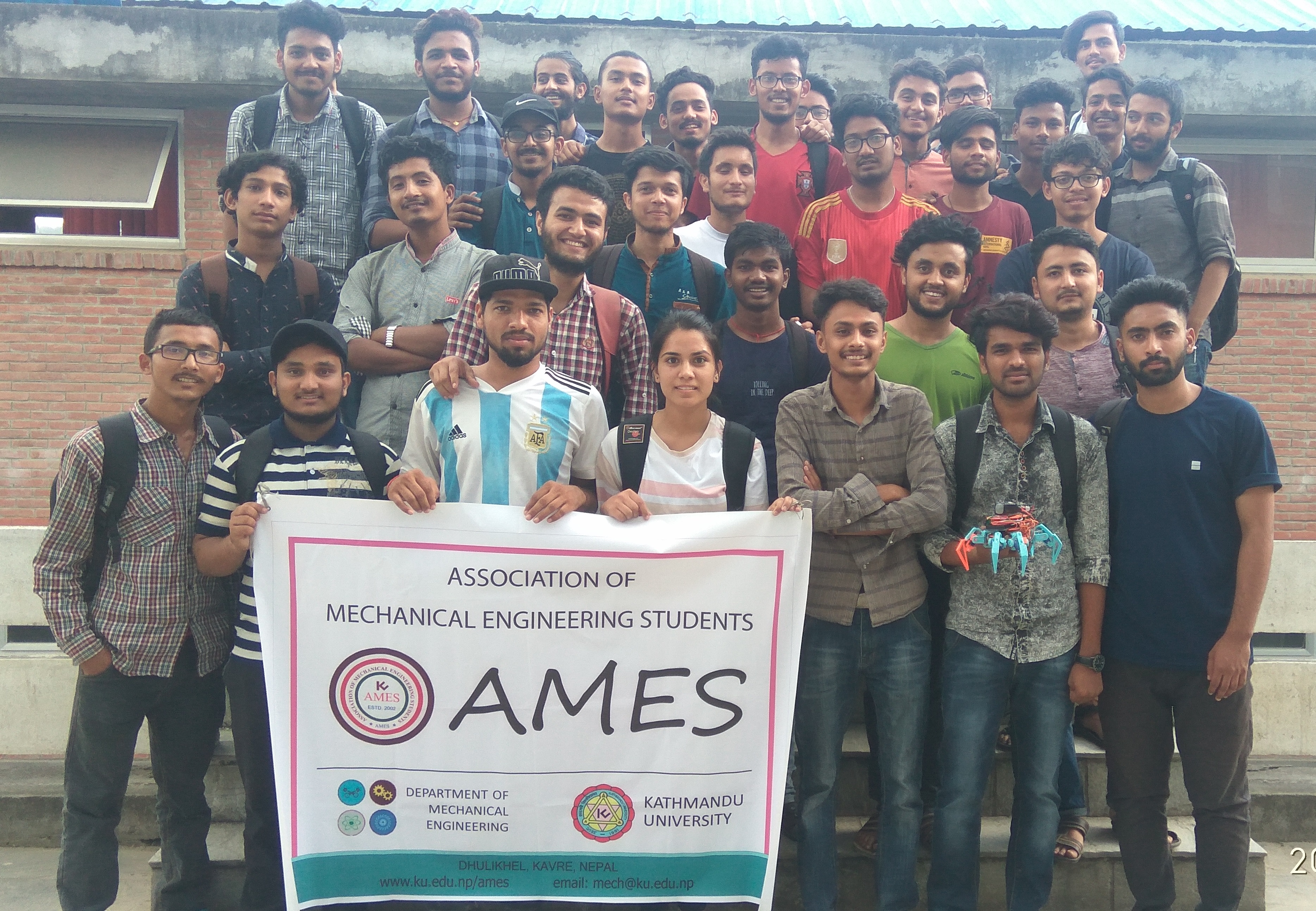 "Solid Works Training and 3D Printing Workshop" was jointly organized by Association of Mechanical Engineering Students (AMES) and Kathmandu University Robotics Club (KURC)  from 24th June to 29th June 2018. The event was considered a pre-event of Aavishkar'18, an annual event of KURC and Aviyantaa'18, an annual event of AMES. The workshop consisted of contents ranging from designing in detail using SolidWorks and introduction to 3D printer, its types, structure and operation.
The training was conducted in Turbine Testing Lab Auditorium which is with no doubt the best venue for conducting the event due to its infrastructures like projector, AC and wide room with capacity of 70 participants and easily reachable location for both trainees and trainers. The training was scheduled for 4:15 to 5:45 PM. The training was planned for 30 participants but, more than 35 students participated the training, declaring the event a grand success.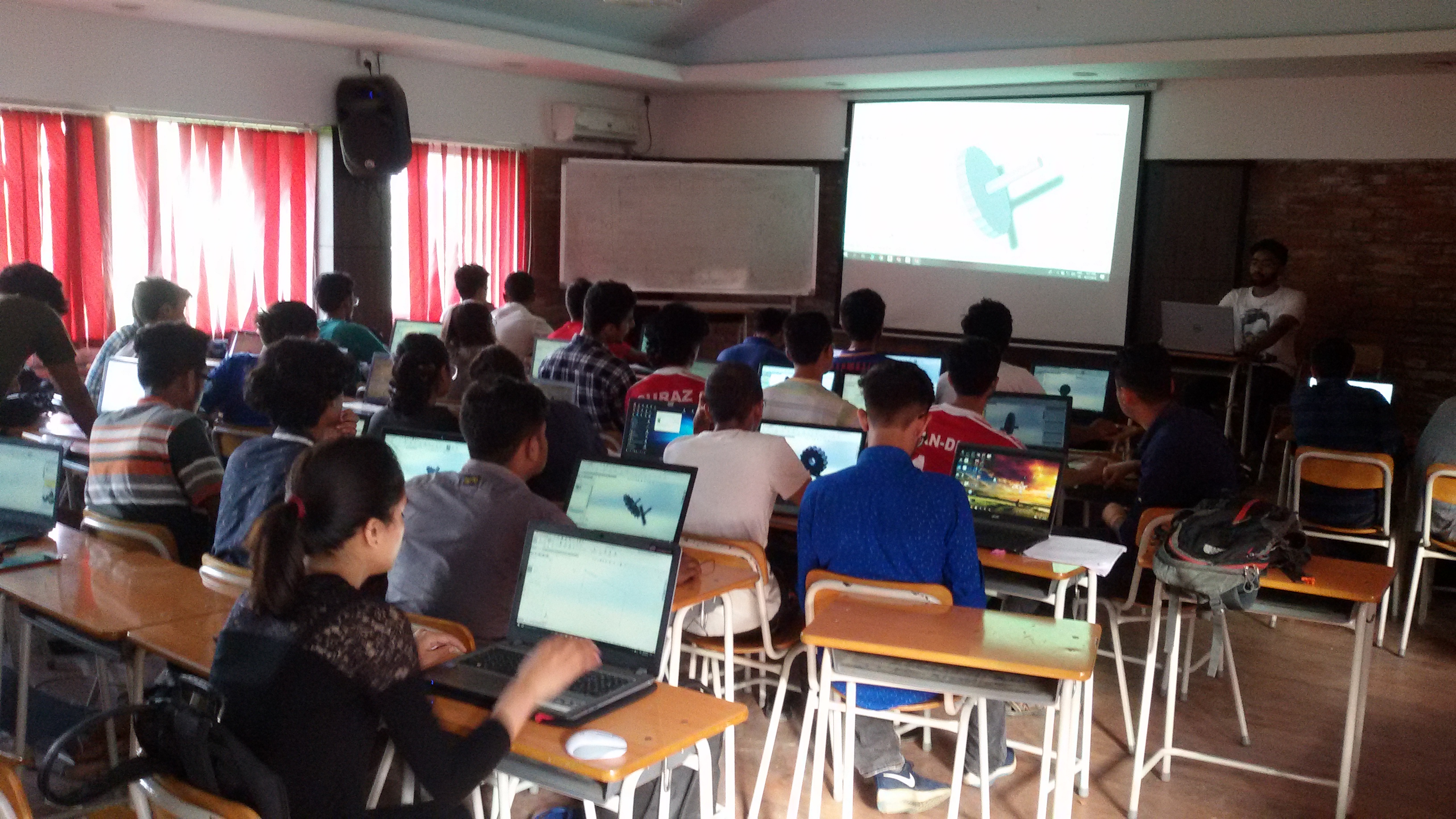 Mr. Prabin Dhakal, Vice President of AMES initiated the event with wonderful speech welcoming the participants in the workshop. He also provided the introduction of AMES and KURC and invited every participants in the annual event organized by AMES named Aviyantaa'18 and in the annual event organised by KURC named Aavishkar'18. He also gave them idea about other events that are about to be organized by AMES in coming days.
The training was held for six days. The 6-day workshop was divided into two phases designing and 3D printing. During the first phase which lasted for first 4 days participants were introduced and familiarized on different available functions and workings of the Solid Works. They were also taught to design a three-dimensional object and mate in assembly drawing. The second phase consisted of introducing and familiarizing them on the principles and logic of 3D printing and how they could make a 3D printer by their own. They were also introduced the types and major components of 3D printer.
First day was the introduction of Solid Works, its uses and advantages while making the model over the glove which was discussed by the Mr. Sanjip Pokhrel, one of the trainer of Solid Works Training & 3D Printing Workshop. Second day was spent discussing the tools, dimension edit, and using those tools and 2D drawing discussed by Mr. Prabin Dhakal, who was also the event coordinator and trainer of the training. The third day was to learn how 3D features such as Extrude, Loft, etc and draw 3D model in Solid Works discussed by Mr. Sanjip Pokhrel. The fourth day, participants learned how to make assembly drawing and mate different parts of 3D drawing which was covered by Mr. Jitesh Kalwar. The day five was the introduction to 3D Printer, its types, and basic knowledge needed to do 3D Printing covered by Mr. Saurav Paudel. And finally, on day six participants learned to use Cura and 3D Printed their model discussed by Mr. Dilip Bhattarai. Other trainers in the Auto CAD Training and Workshop were Mr. Milan Shrestha, Mr. Smirit Dhimal and Mr. Prabesh Ojha.
There were all total of 36 participants. Among 36 participants 35 were either the member of KURC or AMES and one non-member to both clubs. The participants were totally excited to take the training and were mostly curious during the workshop. They participated very actively by asking a lot of questions. The trainers and organizers were very energetic to answer their questions. The trainers did not seem satisfied until the participants were satisfied which caused the trainers to remain in the venue until 6:00 PM late for a day or two. The participants gave a very good feedback and were very grateful that this training was conducted. They gave best wishes for Aviyantaa'18 and Aavishkar'18 and they promised to participate in the upcoming such trainings. So, as a whole, the collaborative event seemed very successful and effective.